Area run by:
Julia Grantham
Classes are currently suspended.
Please do contact me below for further information.

About Julia:
Having taken over the running of diddi dance North and Central Leeds in September 2016, I started my diddi journey as a mum bringing my own two boys along as a customer. To me, it is the best dance and music class around as it is relaxed, fun, funky and teaches little ones different languages all within a 45 minute session! Since starting up, I've grown the business, hired a teacher to help me out, and we now run classes every weekday as well as run sessions in various nurseries, preschools, schools, out of school clubs and we always enjoy throwing birthday parties for both our customers and the general public too. I love that diddi dance fits around my children, still giving me t
ime to be a mum as well as run a successful local business.
Reviews for diddi dance North & Central Leeds:
"My little boy has almost finished his first half term with Julia at diddi dance. He absolutely loves going and looks forward to it all week. Julia is a natural with the children and a great teacher wth loads of energy and enthusiasm. Thank you Julia!"
"I've been taking my daughter to Julia 's diddi dance class since it started in September and she absolutely loves it! Julia is a natural with the children and genuinely seems to love what she does. I'll be very sad when my daughter goes to school next year and we can no longer attend."
"I've been taking my little girl this term to the 'disco' themed classes. She's 2 and a half and absolutely loves it! There's lots of space for the kids to run about and follow Julia's moves and the shakers and ribbons means that there's lots of variety within the session. Highly recommend it!"
Awards & Nominations for diddi dance North & Central Leeds: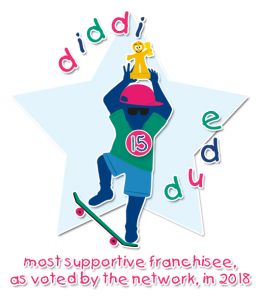 diddi dance North & Central Leeds in the News:
Contact Julia now!
Save
Save
Save
Save
Save
Save
Save
Save