Welcome to the second of our 5 part series: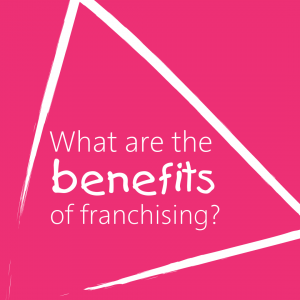 Franchising is a really great way of owning your own business. Perhaps you know you want to work for myself but don't want to start from scratch. That is the main benefit of franchising. The business has gone out there, devised a business, proven it over many years that it can be profitable, built a recognisable brand, understood the demand and they can give you that business in a box.
It doesn't mean that you should pay money for a franchise and that you will automatically just make money. You are still in control of that business, so you really do have the freedom to run your own business, but the benefit is you have support, guidance, training, from head office staff or the franchisor and also the network of other franchisees as well. Running your own business can always be a lonely job, working from home you don't feel part of something. That is a fundamental benefit of franchising. You feel like you have got this team, perhaps remotely but you are really part of something. But like any sort of business, you should always pick something that you are really passionate about. Running a business, even a franchise is really hard work.
You might have a great brand and it is well known in certain areas of the country and you might open up in an area where it is already known, but you might also open up a franchise where it is not a familiar brand. So all sorts of grass roots level marketing, local promotion is still all down to you. You have all the support, guidance, branding and artwork done for you but it is still going to be hard work getting that off the ground, making sure you are delivering in all areas of the business, so that you are really retaining your customers.
Click on the image above 'What are the benefits of franchising' to see Anne-Marie talking about this.