About
At diddi dance we realise and encourage endless enthusiasm and energy in an action packed, full of fun 45-minute dance class.
Classes are suitable for toddlers when they are steady on their feet, so to see if your toddler will enjoy it why not contact your local diddi dance today to request a trial.
Parents and carers are encouraged to join in and share the enjoyment with their diddi dancer. Week after week you will soon see their confidence blossom. We do realise that some toddlers are more confident than others and this is why we offer a trial, so you can be confident it's a class they'll enjoy. Bookings are then taken in half term blocks instead of having to book for a whole term.


The classes were devised and started by Anne-Marie Martin, a professional dancer with over 20 years teaching experience. After running for over 10 years in London we now have 40 locations all across the UK with more opening up all the time.
Feel free to look around the site to find out more about our classes, parties or to book a block of classes today.
Why not join the fun, see where the closest diddi dance is to you and get in touch today for a trial!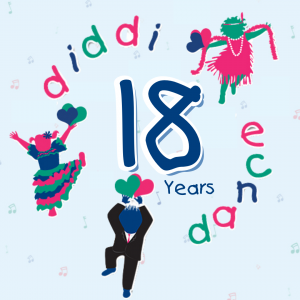 "I can't believe diddi dance is an adult! Having started the very first class back in 2003 I'd have never thought it would be where it is today 18 years later! The thought of the very first diddi dancers now being in their twenties makes me not only feel very old but also very proud. Giving children a healthy and happy start in life is still our main passion".

Anne-Marie Martin – MD and Founder of diddi dance

Accreditations/Endorsements
We are lucky enough to be recognised by two organisations for the work we do and way in which we present our sessions.
Save
Save
Save
Save