EYFS Sessions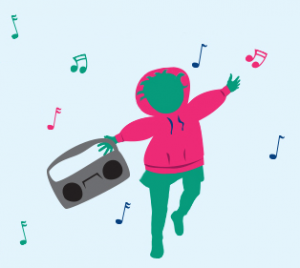 At diddi dance we have made it our mission to enhance children's endless enthusiasm through funky, full of fun sessions that build confidence, co-ordination and creativity.
Our programme has been designed to complement and enhance the Early Years Foundation Stage framework and incorporates every learning area into our classes. Each section of the class has been cleverly aligned with not only the 7 learning areas but also corresponds to the development requirements as set out in the DoE Early Years Outcomes and OFSTED's School Readiness report 2014. We have successfully implemented our programme in nurseries, schools and children's centres since its development eighteen years ago by diddi dance founder Anne-Marie Martin, a professional dancer and teacher.
diddi dance offers a unique 45-minute class that easily fits into your EYFS setting. We engage and inspire the children's own creativity by using action songs, dancing games, fun exercises, hoops and dance ribbons to our own funky pop songs.
We change themes every half term exploring styles such as Salsa, Country, Bollywood, Reggae, Hip Hop and Jive catering for all tastes. Classes follow a structured plan yet are taught in a relaxed atmosphere where children can learn at their own pace as their confidence builds.
Our classes are ideally suited for children between 2 and 5 years old, although we have had children as young as 16 months enjoy and achieve in our sessions.
Why should I have dance in my setting?
With Ofsted now stating the importance of physical activity, they are actively wanting to see children out of breath in early years settings on their visits.
Chief medical officers recommendations state children of preschool age who are capable of walking unaided should be physically active daily for at least 180 minutes (3 hours) spread throughout the day. It can be hard for practitioners with all their day to day responsibilities to keep up with this so having an energetic, full of fun specialist do a session for them can be valuable in a setting.
Dancing for the under 5's is not only a great way of keeping fit and active, but it's also great fun! Our sessions are gender neutral and use our own original music, our fully trained, experienced session leaders are full of energy and children are engaged when seeing them. Getting 18m-5 year olds active is really important so what better way to do this than 45 minutes of jumping, turning, galloping, moving and shaking?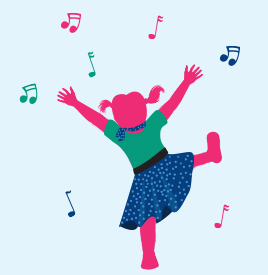 With obesity rates in under 5's at their highest right now exercise is so important to avoid this continuing into later life.
25% of British children are overweight by the time they start Primary School.
11.2% of 4-5 year olds are obese (2 stone overweight)
There is a 40-70% chance children will become obese adults
Exercise should be enjoyed. In the first few years of every child's life how they view exercise is instilled and their view will stay with them for life so we teach them that it can be great fun through dancing.
All diddi dance teachers are all fully enhanced DBS checked and are trained in the diddi dance way. We are also proud to be fully accredited by the Exercise Movement and Dance Partnership as well as the Children's Activities Association – giving parents peace of mind – and our training process is endorsed by the EMD Academy.
How do I organise a diddi dance session in my setting ?
If you are looking to add our accredited, award winning classes to your schedule please download our diddi dance Nursery Document for further information about what we do and can offer your setting!
You can also organise a FREE taster for your setting to see how much your children can benefit from diddi dance by simply contacting your local franchisee via our contact page.
Special Needs Work
diddi dance are currently working with the Para Dance UK devising a wheelchair program for early years and primary aged children.
All of our classes are all inclusive, but some of our franchisees run exclusive SEN classes so please contact your local diddi dance to find out more. Find your local diddi dance here.
Save
Save
Save