EYFS Sessions
Our programme has been designed to complement and enhance the Early Years Foundation Stage framework and has been successfully used in Nurseries, Surestart centres and After-School programmes since its development ten years ago. It is suitable for children ranging from Nursery to Reception age and has recently been a part of many after school programmes. Children up to the age of 5 years still want the chance to develop their skills, become more bodily aware and gain confidence moving on their own – so why not have diddi dance become part of your setting today.
Why should I have dance in my setting?
Dancing for the under 4's is not only a great way of keeping fit and active, but it's also great fun! Dance isn't just for girls!  Boys want to jump around to their favourite music just as much as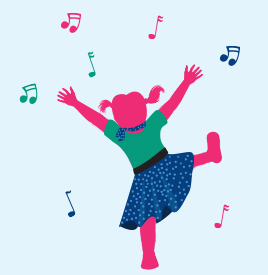 their female friends.  He may not want to be a ballerina or fairy but give him a toy guitar and he's a rock and roll star!  Plus boys need tiring out just as much, if not more than girls and what better way to do this than 45 minutes of jumping, turning, galloping, moving and shaking?
With obesity rates in under 5's at their highest right now exercise is so important to avoid this continuing into later life.  Exercise should be enjoyed.  In the first few years of every child's life how they view exercise is instilled and their view will stay with them for life so teach them that it can be great fun.  Dance is an ideal way of doing this.  The session should be action packed and full of exciting props and catchy music so they can't resist getting up to join in.
How do I organise a diddi dance session in my setting ?
You can organise a FREE taster for your setting to see how much your children can benefit from diddi dance by simply contacting your local franchisee on the contact page.
To download our nursery brochure containing more information click here.
Special Needs Work
diddi dance are currently working with the WDSA (Wheelchair Dance Sport Association) devising a wheelchair program for early years and primary aged children.
Be sure to keep an eye on our website for more details to come as this progresses further.
Save
Save
Save