EYFS Sessions
Our programme has been designed to complement and enhance the Early Years Foundation Stage framework and has been successfully used in Nurseries, Surestart centres and After-School programmes since its development ten years ago. It is suitable for children ranging from Nursery to Reception age and has recently been a part of many after school programmes. Children up to the age of 5 years still want the chance to develop their skills, become more bodily aware and gain confidence moving on their own – so why not have diddi dance become part of your setting today.
Our sessions combine games and dance exercises with props and songs to help children's coordination, rhythm and both gross & fine motor skills. Our sessions enhance the EYFS framework with body part awareness, language development by use of our counting song in 3 languages and social skills. We also explore many different dance styles from hip hop to salsa, bollywood to jive, which can be structured to compliment any lessons or themes being covered in the classroom. Our bagged prop always has two different colours in, to help the children learn their right from their left, and develop their musical skills. Sessions are finished with ribbons and hoops to increase children's spatial awareness, encourage creativity and let their imagination fly.
Why should I have dance in my setting?
Dancing for the under 5s is not only a great way of keeping fit and active, but it's also great fun! Dance isn't just for girls!  Boys want to jump around to their favourite music just as much as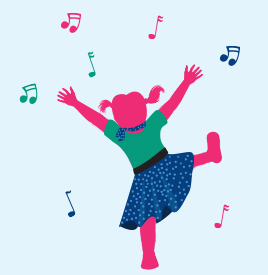 their female friends.  He may not want to be a ballerina or fairy but give him a toy guitar and he's a rock and roll star!  Plus boys need tiring out just as much, if not more than girls and what better way to do this than 45 minutes of jumping, turning, galloping, moving and shaking?
With obesity rates in under 5's at their highest right now exercise is so important to avoid this continuing into later life.  Exercise should be enjoyed.  In the first few years of every child's life how they view exercise is instilled and their view will stay with them for life so teach them that it can be great fun.  Dance is an ideal way of doing this.  The session should be action packed and full of exciting props and catchy music so they can't resist getting up to join in.
All diddi dance teachers are all fully enhanced DBS checked and are trained in the diddi dance way. We are also proud to be fully accredited by the Exercise Movement and Dance Partnership as well as the Children's Activities Association – giving parents peace of mind – and our training process is endorsed by the EMD Academy.
How do I organise a diddi dance session in my setting ?
If you are looking to add our accredited, award winning classes to your schedule please download our diddi dance Nursery Document for further information about what we do and can offer your setting!
You can also organise a FREE taster for your setting to see how much your children can benefit from diddi dance by simply contacting your local franchisee via our contact page.
Special Needs Work
diddi dance are currently working with the Para Dance UK devising a wheelchair program for early years and primary aged children.
All of our classes are all inclusive, but some of our franchisees run exclusive SEN classes so please contact your local diddi dance to find out more. Find your local diddi dance here.
Save
Save
Save