Join our award-winning, supportive network and be in business for yourself, but not by yourself!
"Initially, I had been working for diddi dance Chester for over nine years! I absolutely love it watching the children grow and develop. I then had the opportunity to become a franchisee and for me personally it was a natural progression as I was looking for new challenges, goals and something that would have longevity for me. Although I don't have any children I do know that in the future if I'm lucky enough to start a family it is a business that I can work around my family and create a great work life balance."
"The main thing that being a diddi dance franchisee has done for me in terms of creating a better work/life balance is the hours that I actually teach during the day. Although I have classes every weekday that I deliver myself, I have been able to decide start times to suit my home life. I am therefore now able to take my son to school every morning and still get to my first classes, which start around 10 or 10.15am, which I could not have done previously. Most days I also have afternoon classes meaning I can't get back in time for school pick up but I still manage to get home a lot earlier than my previous job teaching in a college. Also, although I do occasional birthday parties and promotional events on weekends I now don't have to teach any evenings. It is also great that (as a former teacher) I am still able to have some time off during most of the school half term and end of term holidays with my son as this means I don't have to pay for childcare."
"diddi dance was one of many toddler classes I have attended with my children and I was struck by how unique and effective the classes were whilst still being a lot of fun. My Daughter remembers class elements well over a year since she last attended. I decided on a career change to provide a better work-life balance, I've seen first hand how great diddi dance is so I wanted to be a part of this and bring classes to my local area. When I was growing up I regularly took part in various cultural dance shows, diddi dance allows me to enjoy this again as well being able to positively affect the lives of Parents, Carers and their children and I fully understand how important these things are being a mum myself."
"I really wanted my own business however lacked the confidence to 'go it alone'. diddi dance offered me the support that I needed to make my dream a reality. When looking for a franchise diddi dance stood out way above the rest. The friendly, no pressure approach from Head Office really made me feel comfortable and I just knew it was the right one for me. Working for myself is also a great motivator – you see the reward for the effort you put in. The hours are flexible too – I get to choose when classes run. No more 5am starts for me! Plus I have a filofax – always wanted one of those."
Have you thought about a diddi dance partnership?
We know that branching out into your own business can be a daunting prospect, that's why here at diddi dance, we offer partnerships. We currently have 3 partnerships running in our franchise network and they say to just take that leap and join diddi dance.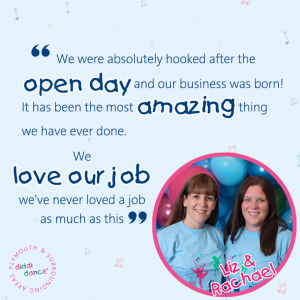 Liz & Rachael – diddi dance Plymouth & Surrounding
"We (Liz and Rachael) met at antenatal classes when we were pregnant with our first children. Once our boys were born we had an amazing year off on maternity leave and decided we didn't want to go back to our day jobs so decided becoming part of a franchise was the way to go. 
In April 2016 we decided to bite the bullet and went to London for an open day at diddi dance with the amazing founder Anne-Marie! We were absolutely hooked from that day and our business was born! It has been the most amazing thing we have ever done and to be part of such an incredible diddi family is the best feeling ever! Our boys were the reason for us taking this huge step in our lives and we could not be happier, we love our job, we've never loved a job as much as this!"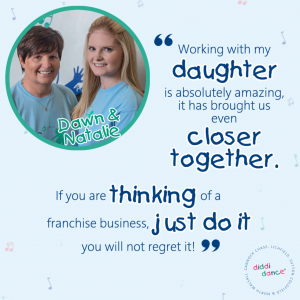 Natalie & Dawn – diddi dance Cannock Chase, Lichfield, Sutton Coldfield, North Walsall & Surrounding
"I'm Dawn, I run diddi dance with my daughter Natalie, we run in Cannock Chase, Lichfield, Sutton Coldfield, North Walsall and surrounding areas.
We love running a franchise business, it's our own business but you're not on your own. We have a fantastic team at head office and working with other dd franchisees that share the same goals and dreams…. is the most rewarding way to work ( it doesn't feel like work). 
Our founder Anne Marie is a truly inspirational person. She has kept us all motivated and up-to date with all the legal and health & safety requirements this past year during the pandemic. We carried on with 'diddi dance in da house' our online sessions during lockdown, again with so much support from head office and other franchisees. 
You're never to old to run your own business (58 years young) and working with my daughter is absolutely amazing, it has brought us even closer together.
If you're thinking of a franchise business JUST DO IT you will not regret it."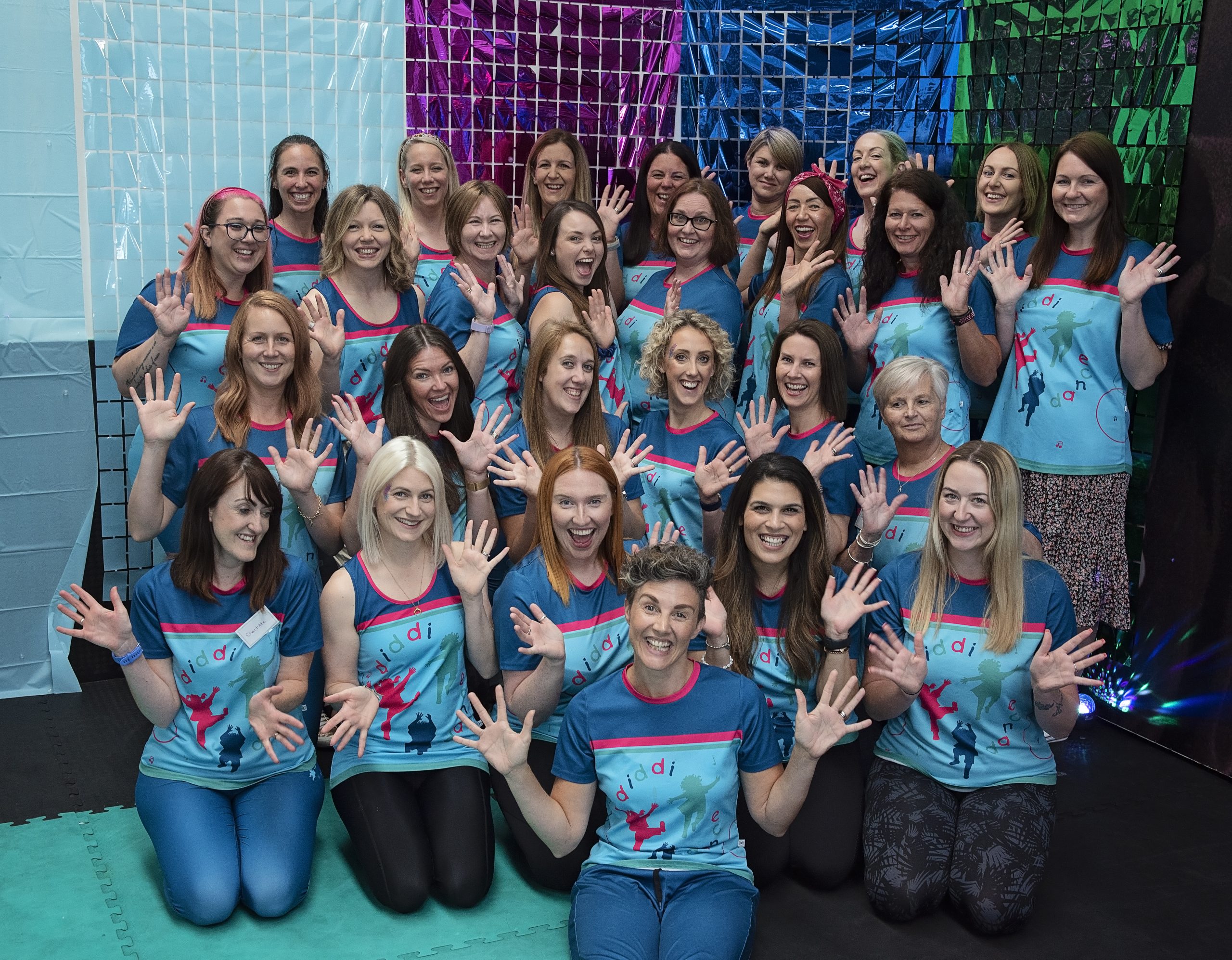 Read more of our franchisee reviews here
<!–START OF TRUSTist REVIEWer CODE – DO NOT CHANGE–><!–END OF TRUSTist REVIEWer CODE–>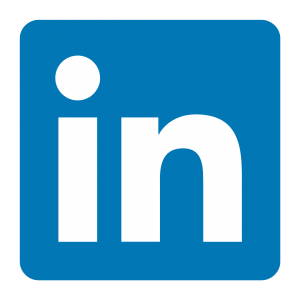 Feel free to contact Franchise Recruitment Manager Donna by email on franchise@diddidance.com should you have any questions or need further assistance with your enquiry.

Save
Save
Save
Save
Save
Save
Save
Save
Save