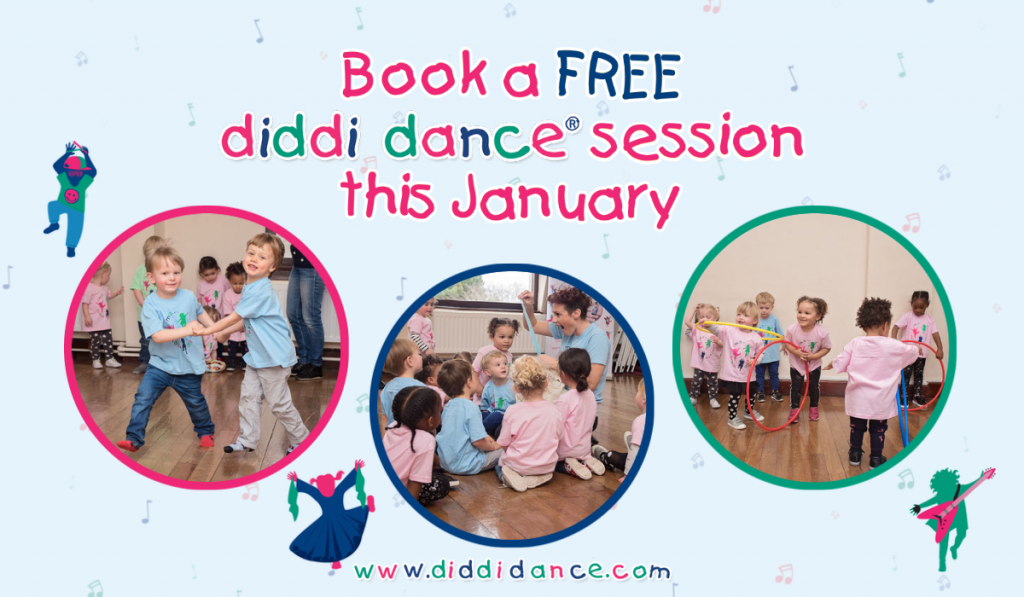 BOOK A FREE DANCE TASTER SESSION FOR YOUR EYFS SETTING THIS JANUARY
Enjoy a FREE diddi dance taster session in your setting this New Year to get children moving. Our programme has been designed to complement and enhance the Early Years Foundation Stage framework and incorporates every learning area into each session.
We offer a unique 45-minute class that engages and inspires the children's own creativity by using action songs, dancing games, fun exercises, hoops and dance ribbons to our own funky pop songs.
Please complete the form below to enquire about your FREE taster session.
INSPIRING A LOVE OF MOVING THAT LASTS A LIFETIME
Exercise should be enjoyed. In the first few years of every child's life how they view exercise is instilled and their view will stay with them for life so we teach them that it can be great fun through dancing.
Dancing for the under 5's is not only a great way of keeping fit and active, but it's also great fun! Our sessions are gender neutral and use our own original music, our fully enhanced DBS checked, experienced session leaders are full of energy and children are engaged when seeing them. Getting 18m-5 year olds active is really important so what better way to do this than 45 minutes of jumping, turning, galloping, moving and shaking?
We have successfully implemented our programme in nurseries, schools and children's centres since its development eighteen years ago by diddi dance founder Anne-Marie Martin, a professional dancer and teacher.
Each section of the diddi dance class has been cleverly aligned with not only the 7 learning areas but also corresponds to the development requirements as set out in the DoE Early Years Outcomes and OFSTED's School Readiness report 2014.
Children today are moving less as a consequence of cultural changes leading to more sedentary behaviour rather than experiencing the joy of physical activity. Movement is the key to learning. In the critical early years of brain development young children should move, dance and play, interacting with their peers.
Important aspects to our approach:
Movement and dance is the young child's route to learning
Enabling environments are key
Raising self-esteem
Involves social interaction
Developmentally appropriate classes
Builds on knowledge and skills
We follow a lesson plan each week
If we want children to reach their optimum in learning then they need to move. Physical foundations for learning, such as balance, posture and coordination, must be secured in the preschool years for young children to cope with the demands of a formal classroom such as the ability to sit still and concentrate, coordinate their hands and eyes when writing and control eye movements needed for reading. Learning is not all in the head, indeed movement is the starting point for children's learning.
If you are looking to add our accredited, award winning classes to your schedule, book your FREE taster to see how much your children can benefit from diddi dance by simply completing the form below.
For further information about what we do and can offer your setting, please download our diddi dance Nursery Document