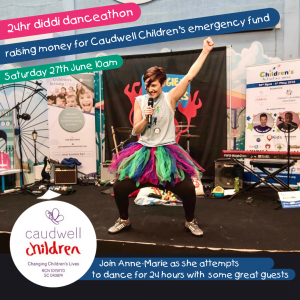 Will you be joining us on Saturday 27th June, to see our founder, Anne-Marie Martin attempt a 24hour diddi danceathon for Caudwell Children?💃🏻🕺🏾
This week should have been Children's Activities Week 2020 and while we wait for the right time for it to take place, we are excited to help raise vital funds for Caudwell Children's emergency fundraising appeal.
This awesome charity changes the lives of disabled children by providing access to the services, equipment, therapies and treatments they so desperately need 💚💗💙
We can't wait for the challenge to begin and see which exciting guests will be joining her online.
If you would like to sponsor Anne-Marie you can do so here 🤩
The event will be streamed live on our diddi dance facebook and instagram pages.
We hope you will join us and all support is welcomed. See you then!