Danielle Harley, our first diddi dance franchisee, is celebrating a decade of teaching in her hometown of Chester and the surrounding West Cheshire & North Wales areas.
Danielle, formerly a professional dancer, singer and actress, has been teaching the diddi dance classes across Chester, Cheshire and North Wales for an incredible 10 years, inspiring tots to get on their feet and experiment with dance. Not only has Danielle taught a phenomenal 50,000 children over the years, she has also managed all diddi dance classes in the area and opened her own dance studios in Mollington Grange Business Park to hold the classes. Marking Danielle's achievements, she was awarded the inaugural diddi diva award just last year, recognizing her astounding contribution to the diddi dance brand.
Danielle Harley from Chester Commented "It is hard to believe it has been 10 years since I first joined the diddi dance team and I have truly loved every minute. I really enjoy teaching, it is so rewarding seeing the children grow in confidence and ability each week and I also love the business side of things. Having the freedom to build a business with the help and support of a fantastic company like diddi dance is amazing. To be able to earn a living doing something you love is truly special and I look forward to opening even more classes soon."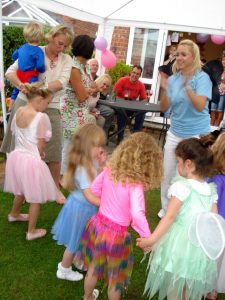 It comes as no surprise to see Danielle praise the multi-award winning franchise, diddi dance. The unique dance company has won the five-star Franchisee Satisfaction Award two years running in 2014 and 2015, and was recently awarded Best Family Friendly Franchise at this year's Workingmums.co.uk's Top Franchise Awards 2016. Highlighting the classes' family friendly atmosphere, flexible working hours, wage and administrative support, it was certainly a proud moment for Founder of diddi dance, Anne-Marie Martin.
Anne-Marie added "It is thanks to the hard work, determination and fun that franchisees like Danielle bring to diddi dance that makes it such a success. diddi dance classes are now available at over 40 locations across the UK and without such a fantastic team of franchisees, this wouldn't be possible. I am so grateful to Danielle for everything she has put in to her classes over the last 10 years, she is a valued member of the team and we are looking forward to celebrating a wonderful 10 years with her."
Read more about her history with diddi dance in this great feature from The Chester Chronicle.
Classes held at the following venues: Mollington Grange and Fun 4 All Play Centre Chester, Mini World Nursery and St John's Methodist Church Wrexham, Ty Bugs Play Centre and Buckley Cross Community Centre Flintshire.
Interview with Danielle:
How long have you been with diddi dance? 10 YEARS
What did you do before joining diddi dance? DANCER/ SINGER / ACTRESS
What do you love most about diddi dance and running your own business? THE FREEDOM TO BUILD YOUR OWN BUSINESS WITH THE HELP OF A FANTASTIC COMPANY AND BRAND
What has been the best thing that has happened to you because of diddi dance? I HAVE BEEN ABLE TO EARN A LIVING DOING SOMETHING I LOVE
What has been a/some of the highlight(s) for you since taking on your diddi dance 10 years ago? ONE HIGHLIGHT IS OPENING MY OWN DANCE STUDIOS FOR DIDDI DANCERS TO DANCE IN
What is something you are looking forward to as you continue with your time with diddi dance? I AM LOOKING FORWARD TO BEING ABLE TO OPEN LOTS MORE CLASSES AND OPEN IN NEW AREA'S. DIDDI DANCE IS WELL KNOWN IN CHESTER AND I WANT TO CREATE AWARENESS ACROS WALES ALSO
What do you enjoy most about your diddi dance? I LOVE TEACHING THE CLASSES BUT I ALSO LOVE THE BUSINESS SIDE. I ENJOY ALL ASPECTS OF DIDDI DANCE. THE REWARD OF SEEING THE CHILDREN GROW INTO CONFIDENT TODDLERS IS AMAZING
And finally, what is your favourite diddi dance theme and why? I LOVE TAP!! I LOVE A BIT OF SHOW BUSINESS!!
To book a free trial in one of Danielle's classes click here or email her for more information here.
Save