diddi dance just spent the last two weekends exhibiting at Move It and The Baby Show, Excel. We had so much fun we wanted to tell you all about it!
Move It is one of the UK's biggest dance events, with over 24,000 dancers attending over three days with performances, classes, advice and shopping all available to them. We at diddi dance have been going along for the past 3 years to help get the brand seen and known more in the world of dance. This year Move It celebrated its 10th year going, and we could not have been happier to be apart of the experience this year.
Founder, Anne-Marie, really enjoys going to Move It as it is a chance for her to see old students who have gone on to do great things in the dance world and meet tons of new people, including celebrities, in the dance world and tell them all about how great diddi dance is.
If you are interested interested in going along to Move It in 2016 and seeing us there just click here for more information.
***
At the Baby Show this past weekend we met some amazing people, not just on our stand but also at the Activity Zone where we held free sessions twice a day to show those who attended what we were all about, while giving their toddlers a chance to have some fun of their own while the grown-ups could rest their feet 😉
While there we met some amazing people. First we met a great dad, Al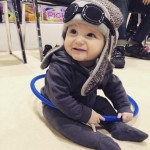 Ferguson, who runs the blog The Dad Network. His son Teddy, who mind you is only about 7 months old, came along to almost all our diddi dance sessions we ran on the Activity Zone while at Excel. His favourite part was the hula hoop, which luckily we had a size perfect for him to use. We also had Sofia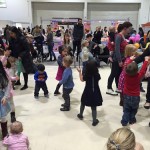 Gouveia come along with her daughter Suri at the end of the day to let her enjoy the bubbles.
Lastly, Laura from Mummy's Zone came along with her son, Oscar. She had some great things to say about diddi dance: "Oscar loved it dancing with hoops, ribbons and pom poms.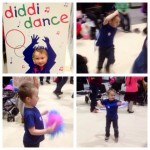 The classes looked great and they have them all over the country, I know Oscar would love to go along." All these parents took the time to mention us on their blogs so please have a read of each.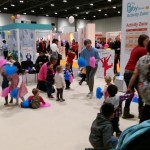 Laura and Oscar also came along with Kelly Finn from More Than Just a Mummy who brought her daughter Tia who loved diddi dance and mum Kelly took some great photos of us in action too!
Thanks again to you all for taking the time to see what we do and mention us to others 🙂
We at diddi dance go along to all three Baby Show so if you are interested in attending one of the future shows and having fun with us on the Activity Zone click here for more information on all the shows over the next year.
 ***
While at Excel, Anne-Marie also had the time to stop by The Franchise Show and give a talk about buying a children's franchise and why it might be right for you, on behalf of EWIF. This was just one of many great talks given at the show by EWIF members over the weekend. If you are looking for some advice on your business or buying into one then EWIF is a great place to start.
Visit their site today for more information or attend a local meeting if you can.