diddi dance North London

Area run by:
Anuschka Socher
Classes currently running in:
Crouch End, Highbury, Highgate, Islington, Kentish Town, Muswell Hill, North Finchley, Stoke Newington, Swiss Cottage

To book your place in a class just click here and type in your post code 🙂 For a FREE trial click here!
About Anuschka:
Anuschka is a professionally trained classical and contemporary dancer and dance teacher originally from Germany. She moved to London in 2013 to pursue her career in dance and dance education and has been working for diddi dance as a teacher for over two years. Anuschka took over the North West London franchise in December 2015 and has been running it ever since. She absolutely loves working with toddlers which is why she was determined to take on the responsibilities of managing the NW London franchise when the opportunity arose in 2015.
Besides still being an active performer and working for a number of other dance schools around London, Anuschka currently teaches most of the diddi dance classes in NW London herself. However, she has got a fabulous and reliable team of teachers that also teach a number of classes for her.
Reviews for diddi dance North London:
"My 3 year old daughter who loves her diddi dance class was very excited at the idea of having a diddi dance party for her and all her friends to celebrate her birthday. The 45 minute session was a perfect amount of time for the mixed boys and girls group ranging from 2 – 7 years old. The teacher went out of her way to accommodate songs my daughter loves and the children all enjoyed the action-filled , fun-packed dance session, with multiple props to mix up the session. The teacher made my daughter the focal point of a number of activities , which made her feel very special. Thank you diddi dance, and a special thank you to the teacher on the day."
"diddi dance is such a fun energetic dance class that always brought a smile to our faces, it was one of our favourite weekly classes because it allowed them to run and jump around and above all have fun! What a sad day it is that after nearly 4 years of going to diddi dance classes with both of my kids, we have to say goodbye as my youngest starts school this September ;( Good luck diddi dance North London, keep up the good work! xx"
"My little one LOVES diddi dance! The classes are so well organised, full of energy and fun. I love how the dance styles change termly which keeps it fresh but with the same format so they know exactly what to expect from class. Lots of props and even language learning (counting in French and Spanish) make it a fun and educational class. I have so much confidence in the teachers; they are fantastic and my little one loves coming to see them ever week. I highly recommend this if you're looking for a fun class for your toddler."
Awards & Nominations for diddi dance North London: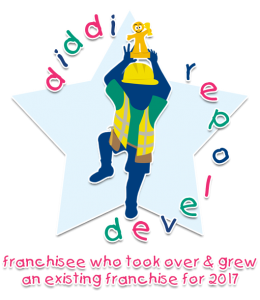 diddi dance North London in the News:
Save
Save
Save
Save
Save
Save
Save
Save
Save
Save
Save
Save
Save
Save
Save
Save
Save
Save
Save
Save