diddi dance SE Hampshire & Chichester has a new owner – Liz Chisnall! She will be taking over the management and direction of all classes & sessions running currently in the area and will be launching some new ones this upcoming September.
The classes that will be running from September are:
Mondays:
Bedhampton Community Centre with Lindsay @ 9.30 am – 21 Bedhampton Rd, Havant PO9 3ES
Eastney Community Centre with Hannah @ 9.30am – Eastney Community Centre, Bransbury Park, Bransbury Rd, Eastney, Portsmouth, PO4 9SU
Tuesdays:
Portchester Community Centre with Lindsay @ 9.30am –

Westlands Grove, Portchester, Fareham PO16 9AD

Meadowside Lesiure Centre with Liz @ 10am – Whiteley Way, Fareham PO15 7LJ
Wednesday
Waterloovile Community Centre with Candice @ 10.45am – 10 Maurepas Way
, Waterlooville
, Hampshire
, PO7 7AY
Herne Farm Leisure Centre with Liz @ 9.30am – Crundles, Herne Farm, Petersfield, Hampshire, GU31 4PJ
Thursday
Funkadories with Lindsay @ 9.30 – 9 Fielder Dr, Fareham PO14 1JE
Rousillion Community Centre with Candice @ 9.30 – Royal Sussex House, Donegall Avenue, Roussillon Park, Chichester, West Sussex, PO19 6DF
The Avenue Tennis Club with Mel @ 9.30 – Southleigh Road, Havant PO9 2RS
Friday
Napier Hall, with Lorna @ 9.30 – Southleigh Road, Havant PO9 2RS
Feel free to email Liz directly now to book a FREE trial or secure your spot in any of the abov classes for September via liz.chisnall@diddidance.com.
A little bit more about Liz: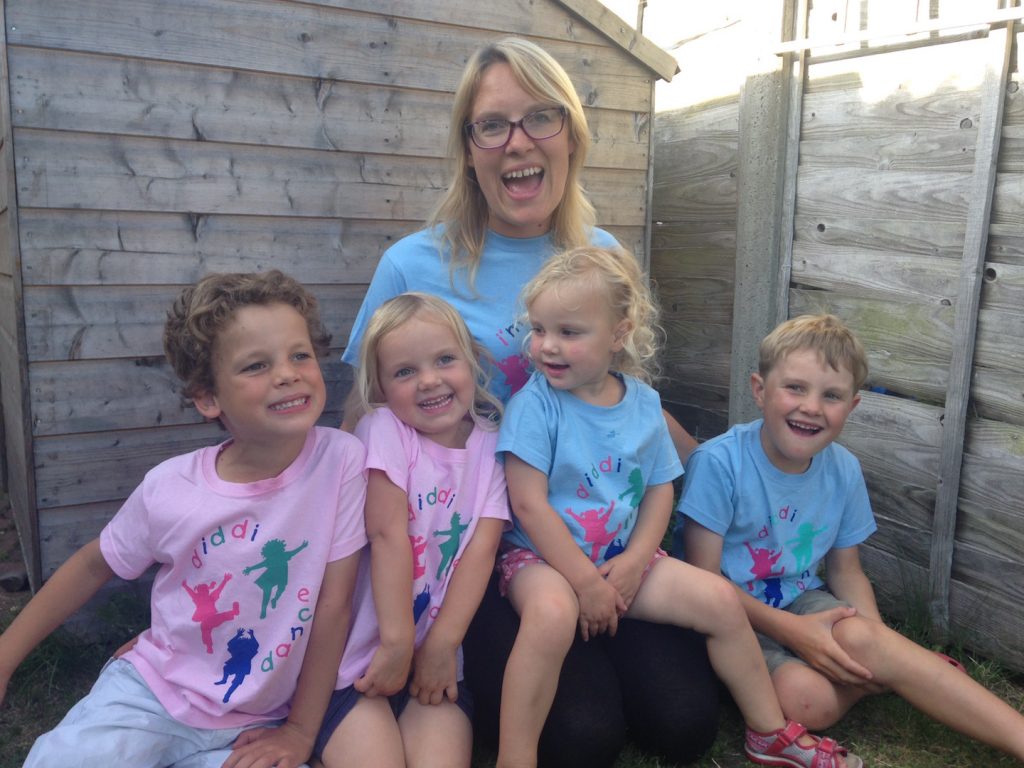 Tell us a bit about yourself:
Hello my name's Liz I live in Emsworth on the south coast with by family. I have four diddi dancers Joseph, Noah, Naomi and Anna. We all enjoy dancing and singing together at home so I'm looking forward to sharing that with lots of diddi dancers and their families!
What did you do before diddi dance?
I've had a variety of careers before diddi dance including fashion buying, public relations and procurement however they've never quiet felt like the right fit for me. I'm so excited to have found diddi dance which will combine my passion for dance and working with kids with all the skills I've learnt in my career.
How were you affiliated with your new diddi dance franchise before taking it over?
My children enjoyed taking part in diddi dance so I knew it was a good fun opportunity.
What made you want to take on an already established diddi dance?
I've always wanted to run my own business but felt a bit daunted, diddi dance was perfect it made me feel like I could work for myself but not by myself. Knowing there were lots of local parents and teachers who love diddi has been a real bonus!
And finally, what are you looking forward to the most with your new diddi dance franchise?
I'm so excited to get to know lots of new families and children and to share some diddi dance fun with them, I'm also looking forward to being able to bring my own diddi along for the ride!
Save
Save