diddi dance Franchisee Joanna Oastler who runs diddi dance Eastbourne, Uckfield & Hastings recently became the first diddi dance franchisee to be fully accredited through the Children's Activity Association. To read all about her recent achievement just click here.
Because of this success of hers, we at diddi dance wanted to take the time to tell you all about Joanna and her franchise here!
How long have you been with diddi dance?
I've been with diddi dance for just over 3 years now, opening my first class in January 2013. Wow, that's gone really fast. I can't believe I'm into my fourth year!
What did you do before joining diddi dance?
I joined diddi dance when my maternity leave came to an end following the arrival of my second child, having been introduced to the classes when searching for a fun activity for my toddler. In my pre-diddi dance life, I trained and worked as an actor, eventually working at my old drama school up until the birth of my second little boy.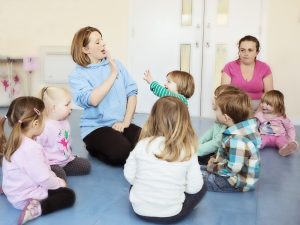 What do you love most about diddi dance and running your own business?
I have the flexibility of working around family commitments and although it's hard work the beauty of it being my business is that I can decide to grow and develop it at the pace that I want and am able to.

Through running my own business I have developed a greater sense of self-esteem and belief in what I can achieve. I've grown in confidence myself from teaching diddi dance and it's given me a perfect outlet for combining my previous performance/drama training and administrative skills. This time I get to do it for myself.
What has been the best thing that has happened to you because of diddi dance?
Nothing beats the feedback you get from parents about their little ones and their enjoyment of diddi dance. Our classes are designed to help build confidence and social skills, as well as provide a high energy activity class developing rhythm, co-ordination and motor skills. It's an amazing feeling when you see a little one come along to class, who is incredibly shy and unsure about joining in and then gradually, they start to engage and participate more and more. It can happen in the space of a couple of classes and sometimes it can take a little longer but it can bring around a huge change in them, that transfers across into other aspects of their life, and it's amazing to think that you have played a positive part in that.

That's just one aspect of our classes that makes a real difference and I am so proud to be associated with something that can have that effect.
What has been a highlight for you since taking on your diddi dance?
It's tricky to pick one thing out of all the different things that have happened over the last 3 years. Our big Christmas party events are always very special for me as it's such a magical time of year, even more so for little ones of the age we have in class. Plus, I'm a massive kid at heart when it comes to Christmas, I just love it. So I really enjoy the build up and all the preparations that goes into hosting the Christmas party each year and then when the day comes around, it's amazing to see everyone having so much fun. Last year, I hosted our first Halloween party and that was a massive hit so we will definitely be doing another this year – watch this space!
What is something you are looking forward to as you continue with your diddi dance franchise?
Opening more classes! I have plans to open further sessions across the Eastbourne, Uckfield & Hastings areas so that we can bring the joy of diddi dance to even more toddlers in our territory.
What do you enjoy most about your diddi dance?
The fact that's it's my job! It somehow feels wrong to have so much fun at work! I'm not going to lie, I'm human and there are days when you get out of bed and wish you didn't have to. But I get to class, set up the music & props and as the little ones drift in with big smiles and rush up to tell you news of their latest plaster covered "boo-boo" or to show off their new shoes, I can't help but forget everything else and genuinely have the best time leading the class.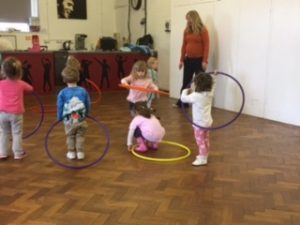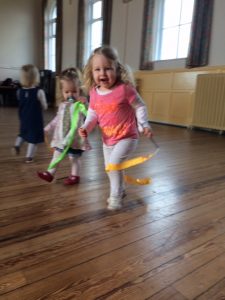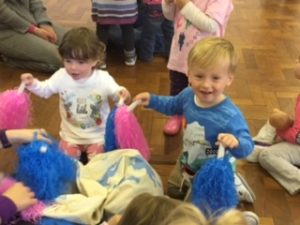 What do you enjoy most about being your own Boss?
What's not to like about being your own Boss? I think the opportunity and flexibility to manage your own time around other commitments such as my boys and my responsibilities as a mother. Obviously, it's incredibly hard work and it sometimes feels like you don't get time to just relax and switch off which I think a 9-5 job can give you but equally, you get out of your business what you put in and the rewards and sense of achievement you gain far outweigh this.

I am so lucky that I am able to spend some quality time with my youngest boy whilst he is still at home before heading off to school in September, whilst being able to manage running my classes around his nursery hours. It's diddi dance that has given me that with both my sons and it's precious time I would not have otherwise had.
What does the CAA accreditation mean to you?
I am absolutely thrilled to have achieved this accreditation with the CAA. With so many activities on offer aimed at preschoolers it can be daunting choosing the right one for your little one. As a mum of 2 young boys myself it is important to me that parents can be assured that the activity we offer at diddi dance has been specifically designed and tailored to support a preschoolers early years development, as well as at its core simply being FUN!

This Gold accreditation also reassured parents that we have all the relevant insurance, DBS, health & safety policies and equipment checks in place as well as having undergone rigorous assessment of our teaching methods and techniques.

I love diddi dance and I want our parents to enjoy it as much as me, safe in the knowledge that we care enough about their little one to maintain the highest possible standards for our classes.
And finally, what is your favourite diddi dance theme and why?
I honestly don't know how to choose a favourite diddi dance theme. Everytime we start a new half term I find myself telling the grown ups in class that the theme we are about to start is my favourite. I'm sure they think I'm just "selling" the theme to them!

I really love our Bollywood and our Disco themes, the songs we have are complete "ear-worms" and our current theme, Country is such a fun one too and gets all the grown-ups "Yee-hawing". However, I think my all-time favourite is probably Jive because it's so energetic, I LOVE the song and we run it in the lead up to Christmas. It gets absolutely everyone on their feet and it's amazing seeing all our diddi's hand-jiving with their grown ups or each other.

Having said that, I cannot wait to try our brand new Hula theme which is coming up this Summer, the song is amazing!
Joanna currently has multiple classes running across her exclusive area. They are as follows:
Mondays @ 9.30 & 10.30am  – St Elisabeth's Church, Victoria Drive, Eastbourne
Mondays @10am – Uckfield Youth Centre, Downsview Crescent, Uckfield
Tuesdays @1.45pm – Trinity Church, Coppice Avenue, Willingdon
Wednesdays @9.45am – Hastings Centre, The Ridge, Hastings
Wednesdays @ 10am – Framfield Parish Church, Brookhouse Lane, Framfield
Thursdays @ 10am – Heathfield Youth Centre, High Street, Heathfield
Thursdays @ 11am – Hampden Park Community Hall, Brodrick Road, Eastbourne
Thursdays @1.45pm – Hailsham Methodist Church, High Street, Hailsham
Fridays @10am – Y Centre, Saint Paul's Road, St Leonards
Saturdays @9.30 & 10.30am – Regency Park Community Centre, Wartling Rd, Eastbourne
To attend any of the above classes or to express interest in have a FREE trial get in touch with Joanna today! You can email her on joanna.oastler@diddidance.com or fill in our free enquiry form by clicking here.
Save