diddi dance are thrilled to have received 5 nominations at this years NatWest EWIF Awards.
Out of the 8 categories available to nominate women in, diddi dance submitted entrants for 5 of them and were thrilled to find out that they were shortlisted in all! When we asked diddi dance Franchisor Anne-Marie how she felt about the company and its franchisees receiving this amount of recognition she said:
We are so proud to have all of our nominations shortlisted in the EWIF awards. We heard this has been their highest number of entries to date so it shows that our nominations are of a really high standard and recognised as quality in the franchising industry"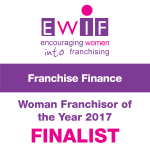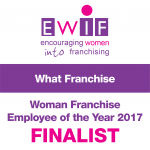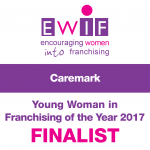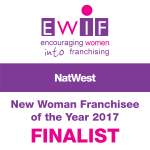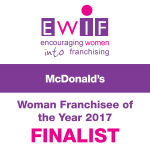 Find out who got nominated for what and learn a bit more about each of them below…
diddi dance Founder, Anne-Marie, is a finalist for Woman Franchisor of the Year and when asked about her nomination she said:
Running a franchise network holds a lot of responsibility even with all the fantastic help I have from my colleagues. To have been shortlisted for this means so much personally as growing diddi dance from a single class to now has been such a journey and helping & supporting other women find a flexible work/life balance makes me proud of them all."
Anne-Marie started diddi dance back in 2003, launched the first pilot franchises in 2006 and officially launched diddi dance Franchising in 2010. Now with over 40 franchisees run diddi dances from Aberdeenshire down to Plymouth her 1 dance class has grown to be a nationally recognised preschool activity everyone wants to send their toddlers along to. Anne-Marie previously won this award in 2015, so we are excited to see if magic happens again!
Rebecca, diddi dance's Franchise Director, is a finalist for Woman Franchise Employee of the Year. She had this to say about her nomination:
It feels great to be recognised for all the hard work I put in behind the scenes at diddi dance. I really love and appreciate these awards because they reocgnise woman in a predominantly male driven sector. I can't wait to see who takes home what!
Rebecca has been with diddi dance since 2011, starting off as a teacher for the company she moved into the franchising side of the company in 2012 as a Regional Franchise Manager before moving into the Franchise Director role in 2014. Now she helps to maintain the brand national image, supports the franchisees and continues to assist with the growth of the company. She previously won this award in 2015 for her work with diddi dance so we shall see if she can bring home the win again this year.
Emily, from diddi dance Bristol, is a finalist for Young Woman in Franchising of the Year. She had this to say about her nomination:
I feel honoured to be chosen as a finalist and never would have expected it! diddi dance is my dream job and I enjoy working hard to keep growing my business here in Bristol."
Emily took on her franchise in 2014 at the age of 22 and since then has helped it grow to one of our more successful franchises at diddi dance. She has achieved her Bronze CAA accreditation, worked closely with local schools to provide PPA cover and been nominated & won multiple preschool activity awards during her just over 2 years running the business including the diddi Developer award at the 2016 diddi dance Conference. We hope we can add to the awards for you this year 😉
Charlotte, from diddi dance Colchester, Maldon, Halstead & Tendering, is a finalist for New Woman Franchisee of the Year. She had this to say about her nomination:
The past 18 months have been hard work but really fun with diddi dance and has gone way beyond my expectations of what it would be like owning and running a franchise.  It has been exciting times for me and I am delighted to have even been nominated for this award and to have reached the final! I have my brilliant diddi customers to thank and also fab teachers on board who make our team what it is and of course Head Office who are really supportive in every way.
Charlotte became a franchisee with us in 2015 and completed her first year with the highest ever turnover for a new franchisee who hadn't taken over a already running franchise, which to us was a great feat in and of itself. She has since gone on to expand her territory multiple times, take on 5 teachers to help her run 15 classes and continues to look to the future all while helping to care for her family. She even won the diddi Debutante award at the 2016 diddi dance Conference. Can't wait to see if she will win in her category!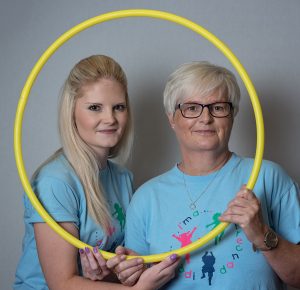 Natalie & Dawn, from diddi dance Cannock Chase, Lichfield, Sutton Coldfield & North Walsall, are together a finalist for Woman Franchisee of the Year. They had this to say about their nomination:
It's an absolute pleasure and very unbelievable that we have been nominated for this award.
It's been such a joy and lots of hard work which doesn't always seem like … work.
It's so rewarding being part of a team that delivers such fun and quality sessions that encourage little ones to get moving.
We feel very lucky to work along side each other as mother and daughter, we have always had a fantastic relationship but we are even closer now sharing the same passions."
Natalie & Dawn became our second diddi dance franchise partnership, but first mother/daughter partnership, in 2015 and since then have taken our franchising world by storm! They were a finalist for the mumandworking Franchisee of the Year award last year and won the diddi Driver award at the 2016 diddi dance Conference. They achieved so much within their first year just the two of them and continued that progress into their 2nd year we can't wait to see how they continue to grow their franchise in years to come. Maybe this will be their first industry award!!!
To see all the nominees and awards just click here.
The winners will be announced on 16th May, 2017 so we will be keeping our fingers crossed for you two!
For more information about the EWIF Awards or to attend and see what it is all about for yourself just click here.
Save
Save
Save
Save
Save
Save
Save
Save
Save
Save