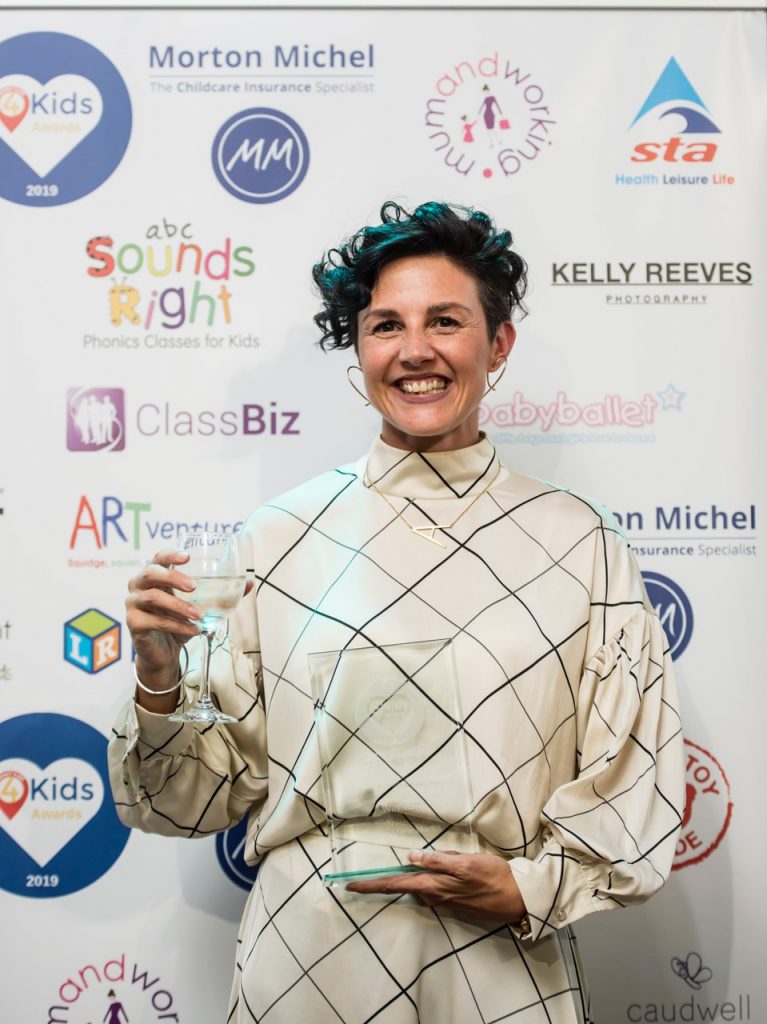 The winners of the National What's On 4 Awards for the Children's Activities Sector with Morton Michel were announced at a special awards ceremony last Friday. We are absolutely thrilled and proud to announce that our very own founder of diddi dance Anne-Marie Martin, was presented with the highest honour of The Lifetime Achievement Award.
What's on 4 said "Anne-Marie's devotion and passion for the industry is awe-inspiring and relentless. We can't think of a better name to add to the Lifetime Achievement hall of fame for children's activities."
As with the other What's On 4 awards, The Lifetime Achievement award isn't voted for by customers which means that Anne-Marie's achievements over nearly 17 years have been recognised by industry leaders as truly exceptional and worthy of bestowing this most prestigious award.
These pioneering awards were launched in 2007 to celebrate the UK's best children's clubs and classes, along with leaders, volunteers and party providers for children – as nominated and voted for by the experts – parents, carers and parents-to-be.
Over the last decade, the What's On 4 Kids Awards have become established as the industry accolade with hundreds of exceptional businesses and individuals in the flourishing sector keen to be part of the action and be in with a chance to be revealed as a finalist or winner!
Anne-Marie said "I am absolutely honoured and delighted to have been recognised for my work with diddi dance, in receiving The Lifetime Achievement award from What's On 4 and to join such prestigious previous winners of this award is indeed a privilege."
Now in its 13th year, this National awards programme welcomes the return of headline sponsor Morton Michel and supporters STA and ClassBiz alongside ceremony hosts, NatWest. Parents and carers logged on to What's On 4 Kids to cast a massive 80,000 nominations and votes to ensure that their 'most-loved' were in the running.
What's On 4 Kids Managing Director, Sam Willoughby, concluded
'Each and every year it's a pleasure to welcome back so many activities, keen to be part of these National awards once again but it's also so exciting to see the new nominees from this thriving sector being showcased for the first time. We know from parents' testimonials how clubs, classes and individual leaders have such a positive impact on the lives of their children and it's an honour therefore to publicly recognise and celebrate these activity providers in this way. Huge thank you to NatWest, Morton Michel and all our sponsors and supporters as well as the thousands of parent voters for being such a massive part of the What's On 4 Kids Awards 2019'.
Previous winners of The Lifetime Achievement Award were Steve Franks (Water Babies) in 2017 and Kathy Doolan (Rhythm Time) in 2018.