Our North Essex & South Suffolk franchisee, Charlotte Foxley, has just been nominated for Franchisee of the Year at the 2018 mumandworking Awards.
Charlotte started her diddi dance in September 2015 and over the past two years she has grown the franchise to be a very successful and prominent one.
The mumandworking Awards are all about:
Empowering parents to achieve their potential
Realising the enormous commercial benefits of flexible working to employers and business owners
Recognising the substantial contribution to the UK economy
Supporting modern-day, family life
Celebrating the importance of the UK's parent-preners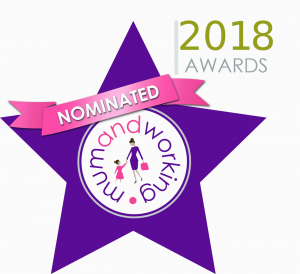 This award  is for companies, colleagues, staff and associates to nominate a franchisee who clearly demonstrates how a flexible franchise can bring out the best in individuals – for the benefit of the business as well as families and customers, which we wholeheartedly think is Charlotte.
When we asked Charlotte how she felt about the award nomination, which was sneakily submitted by Head Office on her behalf, she said:
I am thrilled to have been nominated in the category Franchisee of the Year with mumandworking! Mum and Working is exactly what I do. It is a juggle and hard work but so enjoyable, it doesn't feel like work to me – not when I see the children giggle and have fun dancing to our funky tunes. Working with preschoolers & children with special needs is very rewarding and something that I am really passionate about, particularly as a mum with a child with special needs myself. I have a brilliant team of teachers and a fantastic support system in my family & my fellow franchisees, this makes it all work. "
But that's not all! diddi dance has also been nominated for Franchisor of the Year – a category open to any franchisor who actively promotes exceptionally family-friendly and flexible working policies to its franchisees. This is a voted for category by the public so we need your votes! Click here and please cast your vote for diddi dance to show your support to us as a company but also to your local franchisee or teacher who chose to work with us.
We asked diddi dance Franchisor, Anne-Marie, how she felt about the nomination and she said:
We're so thrilled to be nominated in the Franchisor of the Year category. We love being able to give parents the opportunity to find that work/life balance with a business opportunity that's really family focused. Our business in a box provides that support and guidance taking the headache out of finding your own business idea and hitting all the hurdles along the way. We love our network of franchisees and the fantastic work they do in their local communities with the diddi dance brand."
There is still a long way to go before we find out on the 3 October if either of us have won in our categories, but for now please vote, spread the word and congratulate!