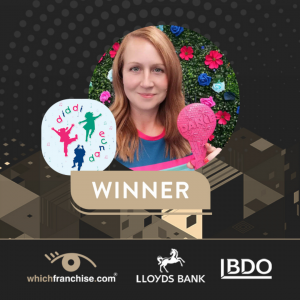 We are absolutely delighted to announce that Svenja, owner of diddi dance Wolverhampton, Stafford, North Telford & Market Drayton, is a winner at the Great British Franchisee Awards 2022 from Which Franchise. 🏆
The former college tutor who specialised in dance and performing arts now employs four teachers and is hoping to take on a fifth as her timetable is completely full with bookings.
"I've grown the business from covering just Wolverhampton and part of South Staffordshire to now covering all of Wolverhampton and surroundings, part of South Staffordshire, Stafford, and part of Shropshire including North Telford and Market Drayton," she says.
She now has 21 classes a week in 19 different venues or locations, plus sessions in five nursery settings each half term and a couple of birthday parties a month.
The Great British Franchisee Awards recognise outstanding franchisees regardless of the sector they work in or the size of their business. The judges look at each franchisee and how they perform across a range of categories; exceptional performance and business experience, ability to drive business growth, staff retention, customer satisfaction, community involvement, inspired leadership, and franchise involvement.
The awards are run by whichfranchise, supported by Lloyds Bank, BDO, AMO Consulting and Chantry Group.
Congratulations Svenja, you thoroughly deserve this award for all your hard work in staying a step ahead during the pandemic and growing your business💃🏼💚💗💙