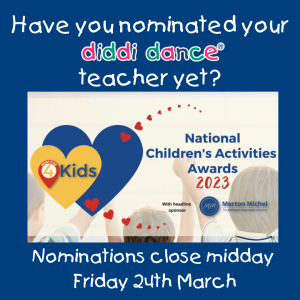 Have you nominated your diddi dance teacher yet?
The What's On 4 Kids Awards are the most prestigious and longest running awards in the children's activities sector, now in their 17th year.
Would you like to nominate your diddi dance teacher or Franchisee? Time is running out as the deadline is midday on Friday 24th March so click here if you would like to and to find out more information.
We are proud to have received nominations already so thank you for all your support.