diddi dance Franchisees Caroline & Jennifer who runs diddi dance Essex recently became the 2nd diddi dance franchise to be fully accredited by the Children's Activity Association. To read all about their recent achievement just click here.
Because of this success, we at diddi dance wanted to take the time to tell you all about Caroline & Jennifer and diddi dance Essex here!
How long have you been with diddi dance?
We have been with diddi dance for 6 and a half years now, launching our first class in January 2011. It has gone so fast!
What did you do before joining diddi dance?
We both followed the conventional paths of school, university, jobs in the City and then marriage and children. diddi dance has been quite a change of direction for both of us, but a fabulous one!

Our sons had become best friends at school and we had too. We spent many hours discussing how we could regain our old working lives but still be there for our children. There didn't seem to be an answer.

Suddenly, diddi dance came out of the blue to us and seemed quite a crazy idea, way out of our comfort zones at the time but the more we thought about it the more intriguing and appealing it seemed. We are both so glad we took the opportunity.
What do you love most about diddi dance and running your own business?
diddi dance has provided us with something that we probably did not feel was achievable when we first became stay-at-home mums. The concept of running our own business with control of our own hours, workload, etc seemed an impossibility. However, diddi dance ticked many of the boxes we had been struggling to tick after having children.

Every day is different, we are in control of everything we do, the hours we work – even if that means we are still emailing each other at midnight! Every day brings something new yet we are still able to attend every Nativity, School Trip, Sport's Day and there's no guilt. There's a balance to our lives which six years ago felt like an impossibility.

We love running diddi dance and the opportunity to work together on something we both care for equally. We have been through so much together, discussing, supporting and laughing together every step of the way! As well as the flexibility, it's a truly rewarding job. We had no idea how amazing and fulfilling dancing and working with children could be.
What has been the best thing that has happened to you because of diddi dance?
We get to meet all sorts of new and interesting people and some amazing children who really hold a place dear in their hearts for us and will hopefully continue into their adult years with a love of dance which we have helped to instil in them! How many people really get to make a difference to so many little people's lives? That is the kind of job satisfaction that we never could have pre-empted when we said yes to this crazy idea six years ago. We are very, very proud of the little company we are creating and the reputation and relationships we have built with parents and their diddi one's across Essex.
What has been a highlight for you since taking on your diddi dance?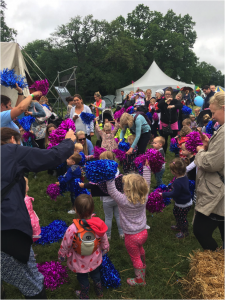 Gosh there have been so many!

Holding sessions at the largest pre-school festival in the country – the 3ft People Festival in Chelmsford, for the last 5 years has involved some amazing and very memorable moments. We get to dance with literally hundreds of toddlers when we are there!

We have worked a lot with little one's with cancer and many children with Cystic Fibrosis, supporting them in our dance sessions, as consistent movement is so important in keeping them well. We have also entertained at lots of fund raising events for CF. Making a difference in these little one's lives is so poignant and rewarding.

To be honest though, every day at diddi dance has a highlight that we can't wait to share with each other after class:

Some of the fancy dress outfits at our Christmas and Easter themed sessions are so gorgeous!
Tales from parents regarding how their little one's have been pretending to be us and have been holding their own diddi dance classes at home.
When the little one who has been hiding behind their grown up for weeks, painfully shy, suddenly appears with their ribbon and blossoms in their own little world of creativity – there is really nothing like it and we get to witness these moments nearly every day!
What is something you are looking forward to as you continue with your diddi dance franchise?
We are really looking forward to expanding further across Essex. We would love to be able to provide more Saturday sessions over the course of the next year for families with working parents.
What does the CAA accreditation mean to you?
We have worked very hard and are so delighted to have achieved our Gold Children's Activities Association (CAA) Accreditation. There are literally hundreds of children's activity groups out there and it's really important for us to be able to say to parents, that with our Gold Accreditation, they can be assured that by choosing our classes we have all the relevant insurance, DBS, Health & Safety policies and equipment checks in place as well as having undergone rigorous assessment of our teaching methods and techniques. Being able to offer parents that peace of mind regarding our activity provision puts us above the rest!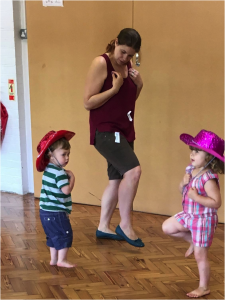 And finally, what is your favourite diddi dance theme and why?
Ooh that's a really tough one as we have 16 fantastic different dance themes to choose from and they all have something special about them that we love but Jennifer has a particular soft spot for our Country theme. It really gets everybody up and moving; children, parents and grandparents too. They all love to gallop on their horses and shout 'Yee-haa'. We have so much fun together with this theme and it's especially bonding for the grown-ups and their little ones, which is the loveliest thing to see.
diddi dance Essex currently has multiple classes running across their exclusive area. They are as follows:
Mondays
9.45am St Laurence & All Saints Church Hall, Eastwoodbury Lane, EASTWOOD SS2 6RH
10.00am Danbury United Reformed Church, Little Baddow Road, DANBURY CM3 4NS
10.00am The Cathedral of St Mary & St Helen, Small Hall, Ingrave Road, BRENTWOOD CM15 8AT
11.00am The Cathedral of St Mary & St Helen, Small Hall, Ingrave Road, BRENTWOOD CM15 8AT
1.00pm The King Edward Community Centre, King Edwards Way, LAINDON, Basildon SS15 6JF
1.30pm Runnymede Small Hall, Rear of the Council Office, Kiln Road, BENFLEET SS7 1TF
Tuesdays
9.45am St Luke's Church Hall, St Luke's Road, SOUTHEND SS2 4AB
10.45am St Luke's Church Hall, St Luke's Road, SOUTHEND SS2 4AB
9.45am The Rayleigh Grange Community Centre, Little Wheatley Chase, RAYLEIGH SS6 9EH
10.45am Writtle Sports and Social Club, Paradise Road, WRITTLE CM1 3HW
9.45 am Champions Manor Hall, Hullbridge Road, SOUTH WOODHAM FERRERS CM3 5LJ
1.30pm St Nicholas Centre, 208 Long Road, CANVEY SS8 0JR
Wednesday
10.00am The Springfield WI Hall, 12 Springfield Green, SPRINGFIELD, Chelmsford CM1 7HR
11.00am The Springfield WI Hall, 12 Springfield Green, SPRINGFIELD, Chelmsford CM1 7HR
10.00am Clements Hall Leisure Centre, Clements Hall Way, HAWKWELL, Essex SS5 4LN
Thursday
10.00am Langham Hall, Langham Crescent, South Green, BILLERICAY CM12 9RD
10.00am Wesley Methodist Church Hall, Room 3, Elm Road, LEIGH-ON-SEA, SS9 1SJ
Friday
9.30am St Mary's Church Hall, North Shoebury Road, SHOEBURYNESS SS3 8UL
9.45am Rochford Methodist Church, 77 North Street, ROCHFORD SS4 1AD
10.00am Hutton Community Centre, Harrison Close, Hutton, BRENTWOOD CM13 1LP
Saturday
9.45am Grove Wood Primary School, Grove Road, RAYLEIGH SS6 8UA
To attend any of the above classes or to express interest in having a FREE trial get in touch with diddi dance Essex today! You can email them on caroline.jennifer@diddidance.com, call 07756 407162, message us at www.Facebook.com/diddidanceEssex or fill in our free enquiry form by clicking here
Save
Save