diddi dance Franchisee Andrea who runs diddi dance Reading & Wokingham recently became the 6th diddi dance franchise to be fully accredited by the Children's Activity Association. To read all about her recent achievement just click here.
Because of this success, we at diddi dance wanted to take the time to tell you all about Andrea and diddi dance Reading & Wokinham here!
How long have you been with diddi dance?
I launched my first class in January 2014 – so I'm now well into my sixth year.
What did you do before joining diddi dance?
After completing a degree in Sports Science, I started out working as a Lifestyle Consultant in a Health Club, where I also taught Exercise to Music classes. I then moved on to Leisure Centre, and finally, Sports Park management where I also completed a Master's Degree in Business Administration (Sports Management) by distance learning. After about a decade I fancied a change from operational work and took on the role of Account Manager at a specialist Sports/Fitness Public Relations agency. My clients here included Life Fitness, Leisure Connection, DC Leisure and Lifetime Training. I continued working at Promote PR until my second child was born in 2010.
Over the years I've participated in many different dance disciplines from Ballroom to Belly to Bollywood! My major interest, since the age of three, has been Highland dancing. Following my competitive career, the pinnacle of which was winning the English Championships, I began dancing professionally (on a part-time basis whilst studying). I was lucky enough to perform in cabaret at many top London hotels, with engagements further afield including tours of Japan, Sicily and Spain.
What do you love most about diddi dance and running your own business?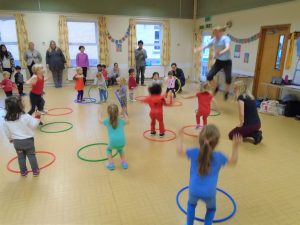 I believe that in order to make any business successful, you need to be passionate about your product or service – and dance is my passion. Quite simply – I love dancing and moving to music! I think dance is one of the best ways to keep fit, healthy and happy. As a child I used to spend hours dancing around my dining room to my dad's records and I love that I now get to do this as my full-time job! I honestly believe that the role of diddi dance franchisee was made for me – as I get to combine my love of dance with the knowledge and experience of business management I've gained over the years. And it's fantastic to have the opportunity to share my joy and enthusiasm for dancing with hundreds of young children and to help inspire them to get moving!
What has been the best thing that has happened to you because of diddi dance?
Whilst it's been hard work, it's also been incredibly rewarding, both professionally and personally. I think it would be fair to say that diddi dance gave me back a real sense of purpose, self-worth, confidence and control – all things that I feel I lost somewhere along the line between being a full time employee and becoming a 'stay at home' mum.
It's always amazing, and humbling, to witness how much of an impact you've had on your little students' lives. I love seeing children blossom in class from shy little toddlers, clinging to mum; to confident young children – happy to show off their funky moves at the front of the class! And it's always really special to hear parents telling you that their child has named their favourite cuddly toy after you; or doesn't stop talking about diddi dance all week; or gallops their way down the aisle in Sainsbury's; or pretends to be you – calling the register for their dolls; or makes their vegetables at tea time do the 'Circle Dance' around their plate! All these things are simply priceless.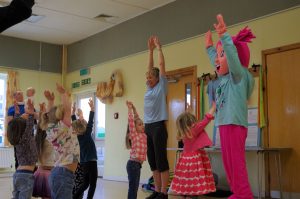 What has been a highlight for you since taking on your diddi dance?
I think attending the launch event for the Reading Children's Festival again last year and having so many previous and current diddi dancers and parents seek me out and tell me how much they love diddi dance, or how much their little one gets/got from the classes, or how great they think one of my teachers is – has to be a real highlight. Not least because it represents the huge journey I've taken… From the first time I attended the event (five years ago) – when I could barely get anyone to even take a flyer from me! But perseverance pays and year by year, as the company has grown, I've gone from being largely ignored that first year, to feeling like a bit of a minor celebrity five years down the line!
What is something you are looking forward to as you continue with your diddi dance franchise?
I really enjoy all aspects of running the business. I get a real buzz from the practical teaching side, but I also love the marketing, financial management, business planning, HR management, accounting and even the administration! I've got a very clear plan of what I want to achieve this year and what direction I want the business to go in, so I'm looking forward to working towards my goals and objectives and continuing to grow.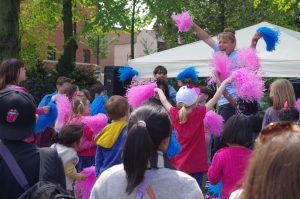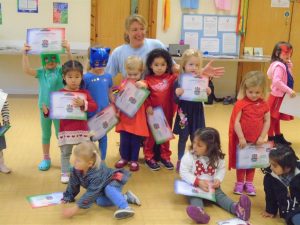 What do you enjoy most about your diddi dance?
It's very hard to beat the magical feeling you get when you have a class full of toddlers all giggling at your silly antics and you know you've got them completely engaged and absorbed in the activity!
What do you enjoy most about being your own Boss?
I'm quite self-motivated and hard working so I really like the fact that "you get out what you put in" when you're running your own business. I've been able to achieve a (fairly) healthy work/life balance and can work my hours around what's best for my family. Having ultimate control over the growth of the business has been great and I love that I've had the opportunity to scale it up as my children have become a little more independent and my available work hours have increased.
What does the CAA accreditation mean to you?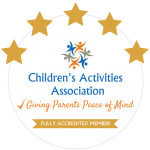 I always set myself and my team the highest of standards, as I truly believe that "if a job's worth doing, it's worth doing well!" I pride myself on the quality of service I provide my customers and, wherever possible, I try to exceed their expectations, so it means a lot to be awarded Gold accreditation from the CAA. With so many toddler classes around today, I believe it's really important for parents to have the peace of mind that the activity they've chosen is setting the benchmark for quality control in all aspects of the business.
And finally, what is your favourite diddi dance theme and why?
For me, variety is the spice of life, so each time a new theme begins, it feels like my new favourite! (Having 16 different dance styles to work through is one of the things I love best about diddi dance.) But if I really have to choose one, I would go for the Jive – I love the full on energy and commitment required and the sheer joy that you can't help feeling when you're kicking and flicking! And the 'Dinnertime' track used for the Jive is toe-tappingly brilliant!
diddi dance Reading & Wokingham currently has multiple classes running across their exclusive area. They are as follows:
Mondays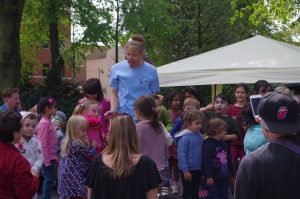 9.30am at Caversham Heights Methodist Church, 74 Highmoor Road, RG4 7BG
10am at Emmanuel Church Centre, Southlake Crescent, Woodley, RG5 3QW
Tuesdays
10am at Lord Harris Court, Mole Road, Sindlesham, RG41 5EA (inter-generational class)
10am at St Luke's Parish Hall, Erleigh Road, Reading, RG1 5QY
1.45pm at Tilehurst Methodist Church, 26 School Road, RG31 5AN
Wednesdays
10am at St Barnabas Church Hall, Elm Road, Earley, RG6 5TS
1.45pm at Wokingham Community Centre, 35 Reading Road, RG41 1EG
Thursdays
10am at Wokingham Community Centre, 35 Reading Road, RG41 1EG
Fridays
10am at Reading YMCA, (Sports Hall), 34 Parkside Road, RG30 2DD
1.45pm at Shinfield Parish Hall, School Green, RG2 9EH
Saturdays
9am & 10am at Radstock Community Centre, Radstock Lane, Lower Earley, RG6 5UZ
9am & 10am at Coronation Hall, Headley Road, Woodley, RG5 4JB