We are over the moon to welcome another franchisee to the diddi dance network, Kerryann Cope will be opening diddi dance Tower Hamlets!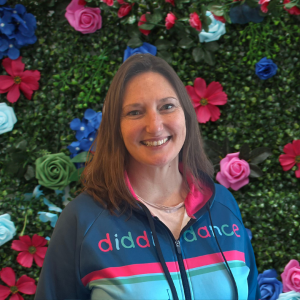 Hi, I'm Kerryann! I became a diddi dance franchisee in 2023 just as my daughter was turning 3, and I was letting my nursing registration lapse. I had been working as a registered nurse in a variety of fields (including paediatrics, travel health, and palliative/ end of life care) for over 20 years. The combination of having my miracle baby, and the covid pandemic, caused me to reconsider my career trajectory and venture.
I have always danced! Ballet and contemporary dance through my childhood, and 5 rhythms and freedom dance in my adulthood. It feels like I am circling back to a childhood dream of being a dance teacher for children, and the fun levels in diddi dance are off the scale!
I am so grateful to have had my own diddi as inspiration to find dance classes, and I hope all the grown-ups as well the children who come to my classes have as much fun as I do.".
Booking is now open for diddi dance Tower Hamlets and the first class is just a couple of weeks away so book your space now.
We wish Kerryann the very best of luck with the launch of her franchise.
If you would like to know more about owning your very own diddi dance, our next Open Day is scheduled for 14th December, why not come along to find out more or check out our franchise page.