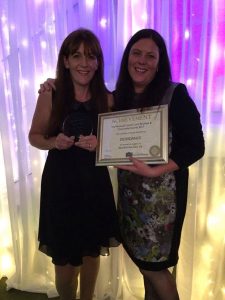 Congrats are in order for diddi dance Plymouth & Surrounding who just last week won their first local industry award at the 2017 Woolwell Centre Local Business and Community Awards.
The awards were created to recognise, reward and celebrate fantastic individuals and businesses in the Plymouth area. Liz & Rachael, who run diddi dance Plymouth & Surrounding, were nominated alongside Hartbeeps & 2 Counties Plumbing for the Best Business Start-Up awards and on 22nd September they were announced as the winners!
We asked them how it felt to be recognised by their local community with this award and they said:
We are delighted and shocked to have been nominated & shortlisted for this award, it's lovely that a member of the public has taken the time to nominate us for Best Start-Up Business. We have worked very hard over the last 12 months but have loved every minute of it. We had such a fab evening at the Woolwell Centre Local Business & Community Awards. When they announced that we won the Best Business Start-Up award we were both gobsmacked!!  It means so much to us that people really love what we are doing and even better that it's getting our name out there – it feels like we're doing something right!!"
Once again congratulations ladies and we can't wait to see what the next 12 months hold for you.