We are absolutely thrilled to have welcomed four new franchisees to our network in the last year.
Laura, Constantina and Gemma all took over existing franchises that have been running for a number of years and Andrea opened up in a brand new area of Southampton.
Meet them here and feel free to contact them to find out more (face to face classes are currently paused but may be running an online option)
"I absolute love teaching dance and sharing my passion with all of your lovely children. I was very diddi myself when I first started dancing at the age of 4 and am proud to have graduated from the University of Chichester with a BA Hons Degree in Dance in 2016. Being able to work in dance full time is a dream come true and I am very thankful for everyone's ongoing support".
"Hey, I'm Constantina but everyone calls me Cos.
I have been dancing from a young age entering dance competitions, and I attended a dance academy from the age of 3. I continued my love for dancing and performing arts at Chickenshed Theatre and got the chance to perform at The Royal Albert Hall. I am qualified Level 3 and Level 5 Early Years Practitioner.
I can't wait to meet all your diddi faces and be dancing and having fun with you."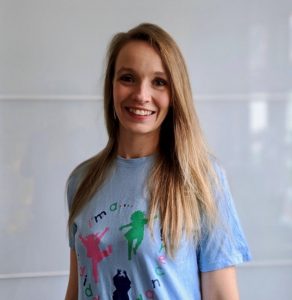 "I'm Gemma, mum to a very lively little boy and ex professional dancer. In my pre-child life I trained in dance and musical theatre and danced in various productions both in the UK and internationally. I also taught various dance classes and choreographed for a variety of different projects.
I first came across diddi dance as a mum, when I took my then 18 month old son along to his first class 2 years ago. We both absolutely loved it from the start. It was so nice to see the children grow in confidence and being encouraged to develop at their own pace, whilst being introduced to so many different dance styles. I am very much looking forward to helping lots of children and parents enjoy dancing together, just as I did with my own little one!"
"Hello! I'm Andrea and you are all very welcome at diddi dance Southampton! Dance has always featured in my life, from the ballet and tap classes I attended from age 3, to having a good old boogie with the girls on a Saturday night aged…well that's a secret! And although dance styles and music influences have changed, my love of moving to music has remained a constant.
diddi dance really is so much more than dancing to music. It offers the children physical and social development in a fun and friendly way. Children are free to express themselves, be creative and burn off their boundless energy! And for adults? Well, we get to be part of the fun too as our involvement nurtures and supports the growth of their confidence and abilities.
diddi dance's unique tunes are just so catchy that they'll get your toes a-tapping and your hips a-wiggling and I cannot wait to share this with you at a diddi dance class in Southampton."
Have you thought about a diddi dance franchise?
Are you thinking about starting a new business in 2021? Would you like to find out more? See what some of our current franchisees have to say and take a look at our franchise page for more information or contact Recruitment Franchise Manager Donna, who'll be happy to answer any questions you may have.